NC Spay/Neuter Program Changes Are In!
The 2017 state budget approval was an exciting time for AnimalKind's office. Our state legislators agreed as of July 1, 2016, to a budget that will enable our spay/neuter program to approve more people to fix their pets!
The state "I-Care" license plate program is delivered by the NC Department of Agriculture. It provides funding for the state spay/neuter program that enables counties to apply for reimbursement for spay/neuter surgeries that meet state program criteria. $20 of each license plate purchased goes towards this program as well as funding from a pet food tax.
The state spay/neuter program has fueled AnimalKind's partnership with Alamance and Orange counties which offer low cost spay/neuter services for low income residents. AnimalKind assists the animal shelter staff by qualifying the pet owners to participate in the program, sponsoring the veterinary surgeries, and guiding staff through the process of being involved with this state assistance program.
What does this mean for AnimalKind's programs?
We can now approve applicants if they are low income OR if they are participating in government assistance programs like Medicaid. This change in policy will allow AnimalKind's programs to approve a lot more families for our $20 Fix program, and we hope to see a big increase in spay/neuter surgeries that are funded by the state I Care license plate program this year.
If you are interested in ordering an I Care license plate for your car Click Here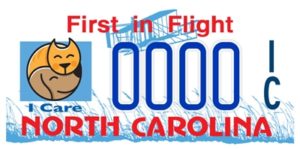 For More information about the State Spay/Neuter Program Click Here