Burlington Animal Services – Current Programs & Specials
Burlington Animal Services offers the community a wide array of services including a low cost spay neuter program. Partnering with AnimalKind, THE $20 FIX voucher program is available to residents of Alamance County who qualify to receive help with the cost of spaying and neutering their pets. Adoptions, Rabies & Microchip Clinics, and many other services are also available throughout the year.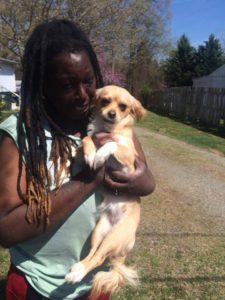 Gwen and her dog Smores (above) –  a Burlington resident who received a low cost spay/neuter surgery through THE $20 FIX.
Partnering with Burlington Animal Services, local rescue groups, veterinarians and volunteers has been extremely successful for THE $20 FIX Program in Alamance County. Together, we have helped spay/neuter over 600 pets in 2017.