SpayNC Helpline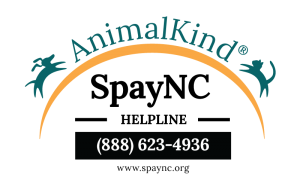 1-888-NC-FIX-EM (1-888-623-4936)
Monday-Friday, 9 to 2 EST (Hablamos español)
Download SpayNC Helpline Flyer–English | Español
Watch SpayNC Helpline PSA (30 second video)–English | Español
AnimalKind recommends that you establish an ongoing relationship with a full-service veterinarian for all of your pet's needs.  But, if you have a cat or dog and are unable to afford the cost of spay/neuter at regular prices, please browse the options below or call SpayNC Helpline toll-free and ask for help preventing accidental litters of puppies and/or kittens.
Search for Reduced-Cost Spay and Neuter Options in NC*
*Our map is currently not working – please call the SpayNC Helpline at 888-623-4936 for assistance with low-cost clinics in your area.
Enter your zip code, address, city or county below to find the options closest to you on the map.
TIP:  To narrow your search even further, locate the secondary Search field under the map and search the database description or address text.  Among other things, you can use this additional search feature to find clinics that serve rabbits and feral cats, as well as narrow clinics and programs by type or name.
Feral/Free-Roaming Cats:  Please be familiar with your NC animal law and local feral cat ordinances, as well as practices for safe handling.
AnimalKind staff and volunteers work hard to keep our database of reduced-cost clinics, programs, and other options up-to-date.  If you have any suggestions or additional information for our search tool please contact us using the information at the top of the page.