Volunteer
Volunteering with AnimalKind is a great way to have big impact on the lives of cats and dogs in NC.*
*Our volunteer programs. Orientation will be scheduled by appointment. Please contact the office for more information.

Be a part of the solution to the overpopulation of cats and dogs in NC and their subsequent euthanasia in shelters.  AnimalKind provides programs and resources to help end the unnecessary euthanasia in NC shelters by helping families spay and neuter their dogs and cats.
We are not a shelter or a clinic, so no animal experience is necessary to volunteer with us.   Individuals, school groups, service organizations and those needing court ordered community service hours are all welcome!
AnimalKind has a wide variety of volunteer opportunities, like:
planning special events
assisting at our office
helping at our thrift shop… and many more!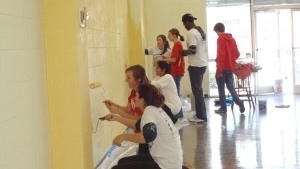 Volunteer assignments depend on your interests, skills, and available time. Please join us for one of our monthly orientation sessions so we can get to know you better!
To sign up, fill out a volunteer application. Once you submit your form you will receive information about the next orientation session to schedule an appointment.
To fill out a volunteer application please click here.
---
It's easy to become an AnimalKind volunteer! Follow these

three

easy steps:
Attend an orientation session by appointment .**

Complete a background check.
*A parent or guardian is required to attend information sessions with volunteers that are 17 years old. Volunteers must be at least 16 years of age. Volunteers aged 16 or 17 years of age must be accompanied by a parent or guardian while volunteering. Volunteers aged 16 or 17 require legal parent or guardian consent; we provide a document to verify this.
Court ordered community service volunteers are welcome to volunteer at ReTails Thrift Shop.  Click here for details.
ReTails' volunteers enjoy the time they spend helping a wonderful cause, and many of them become long-time friends and supporters of AnimalKind.
Completion of a volunteer application and attendance at a scheduled orientation session.
** Individual orientation sessions are held at ReTails Thrift Shop, 2821 Spring Forest Rd, Raleigh, NC 27616, by appointment only. Email Davidm@animalkind.org or call 919-872-0019 to schedule an orientation appointment.

---
Special Opportunities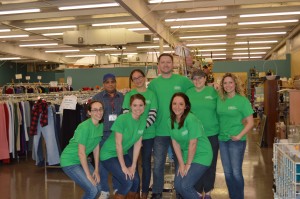 Does your school club want to get involved?
Are you a part of a club that likes to give back to your community? Consider a volunteer day with AnimalKind! Groups of volunteers can help us in huge ways with activities like posting flyers in your community, receiving and sorting donations at our thrift shop, or working on creative art projects.  Also consider hosting your own donation drive.  Check out the opportunity below.
Need an opportunity for young kids? We've got em!
We love getting kids involved in responsible pet care and community giving. If you have a particular idea for getting your child involved please let us know. Also see "Host your own donation drive" below.
Hosting a donation drive for our ReTails Thrift Shop is one of the best ways to support AnimalKind's mission and programs. This activity is great for individuals, clubs, and families with young children. Volunteers have the opportunity to create their own flyers, set the day and time of their drive, pass around to their neighborhood, workplace, or church family, and then collect items to bring to ReTails. Items can include clothes, accessories, household items, sporting goods, furniture, and much more! Check out our Donation Drive Toolkit.
---
Volunteer Opportunities