THE $20 FIX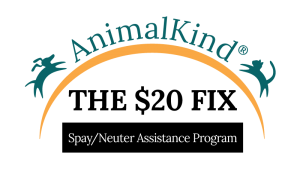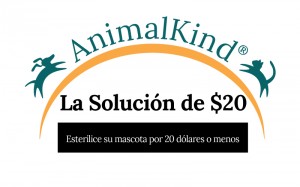 Over 22,403 cats and dogs have been helped through THE $20 FIX Spay/Neuter program since 2004!
THE $20 FIX program offers financial assistance for low-income families in Alamance County and Orange County to spay or neuter their dogs and cats. You may qualify by income or assistance. Complete the application below and attach your qualifying document. You must be a resident of Orange or Alamance County to be eligible for this program.
If you live in another county and need help finding low-cost spay/neuter options in your county, contact AnimalKind's SpayNC Helpline at 888-623-4936 or email us at spaynchelpline@animalkind.org. Many other areas in NC have similar programs for pet owners who need assistance with spay/neuter.
---
Apply Today:
To apply for THE $20 FIX, please click on your county of residence to download the application. Once you have completed the application, submit it and a copy or picture of your qualifying document by email, text, fax or mail to AnimalKind using the contact information at the bottom of this page.
Alamance County (English) Alamance County (Espanol)
Orange County (English) Orange County (Espanol)
---
If you DO qualify:
Once your application is approved, you will receive a spay/neuter packet which will include your voucher(s), a list of veterinarians, and surgery information. This packet should arrive within two weeks of your submitted application. If you don't receive your voucher(s), call us at 919-870-1660 or email thefix@animalkind.org.
The spay/neuter voucher has an expiration date of 180 days, so, please ensure you schedule the surgery ASAP, especially since some locations have a wait list.*
Your cost will not exceed $20 (copay) per cat or dog. This amount must be paid on the day of the surgery to the veterinarian. If you are unable to pay the $20 copay, please contact us directly by phone at 919-870-1660.
If needed, your pet's rabies vaccination (required by law) will be administered at the time of surgery.
---
If you DON'T Qualify:
If you do not qualify for THE $20 FIX program but still need assistance with the cost of the spay or neuter surgery, contact us for more information on other programs in the county. To find another option in NC near you, call us at 888-623-4936 or email at spaynchelpline@animalkind.org
---
Contact Us:
AnimalKind– THE $20 FIX
P.O. Box 12568
Raleigh, NC 27605
Phone: 919-870-1660 or 1-877-870-1660
Monday-Friday, 12p to 4pm EST (Hablamos español)
Fax: 919-890-0705 or Text to 919-870-1660
thefix@animalkind.org