Volunteer Opportunities
Please contact us at volunteer@animalkind.org, or 919-870-1660, if you are interested in any of the following opportunities.
AnimalKind Office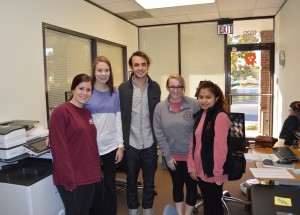 Assist at our main office with administrative tasks. Responsibilities could include:
checking applications,
working within our database,
calling and emailing clients,
assigning vouchers,
general printing,
preparing letters, and much more!
ReTails Thrift Shop



Volunteer at our fun and fast-paced thrift shop in Raleigh!  You may be assigned to a variety of tasks including:
receiving donations,
sorting donations,
preparing donations for selling (cleaning and pricing),
restocking merchandise,
keeping the shop clean,
assisting customers,
working at the jewelry counter,
working in the book department,
assisting with art projects,
office tasks such as data entry,
assisting with our eBay account, and much more.
Marketing/advertising professionals are also needed to help with promoting the shop and creating business partnerships throughout the community.
Host a Donation Drive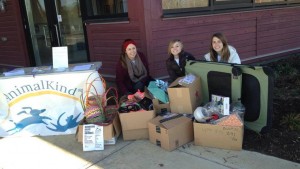 ReTails Thrift Shop is always in need of gently used items to sell in the shop. 100% of the net profits from the store goes back to AnimalKind and our life saving programs. A donation drive is a great activity for the entire family, or groups. Volunteers can plan their entire event, from setting a time and drop-off date, to creating flyers and advertising. Your event could even be featured on our blog or website!  Check out our Donation Drive Toolkit.
Special Projects and Professional Skills
We have a wide range of professional needs.  Every hour of pro-bono consulting results in saved money that can then go towards saving cats and dogs.
If you have skills in writing and journalism we could use your help in writing press releases and posting on social media.
Marketing professionals are a great need for us at AnimalKind. Marketers are needed for creating marketing plans, graphics, and advertisements.
Carpentry and/or construction volunteers are needed frequently at ReTails Thrift Shop.
Do you love communicating through Facebook, Twitter, Instagram, Pinterest, and more? You could get to spend time on your favorite sites while helping to save the lives of cats and dogs!
AnimalKind would love to have a video to not only inform about our mission and programs, but to educate on the pet overpopulation problem and euthanasia in NC. Skilled videographers are needed to help with this project.